The 2020 is the 47th edition of the Good Beer Guide (GBG), the beer-lovers' bible is fully revised and updated each year to feature recommended pubs across the United Kingdom that serve the best real ale. The GBG is completely independent, with listings based entirely on evaluation by CAMRA members. The unique breweries section lists every brewery – micro, regional and national – that produces real ale in the UK, and their beers. Tasting notes for the beers, compiled by CAMRA-trained tasting teams, are also included. This is the complete book for beer lovers and for anyone wanting to experience the UK's finest pubs. At £15 it's a great Christmas present for the ale drinker in your life.
According to Marstons, beer volumes have levelled out in recent years after a change in drinking habits, favouring drinking at home rather than in the pub. Since the start of last year, some 854 have shut across Great Britain, but the decline has slowed since 980 closures in 2017. There are now 40,683 pubs in England, 2,901 in Wales and 3,612 in Scotland, according to CAMRA. CAMRA go on to say, 'Pubs are a very important part of our national culture and are valuable community assets which help to combat loneliness and social isolation'.
So, when people find the pubs that are still open, what beer do they buy? Here is a market snapshot from Marstons.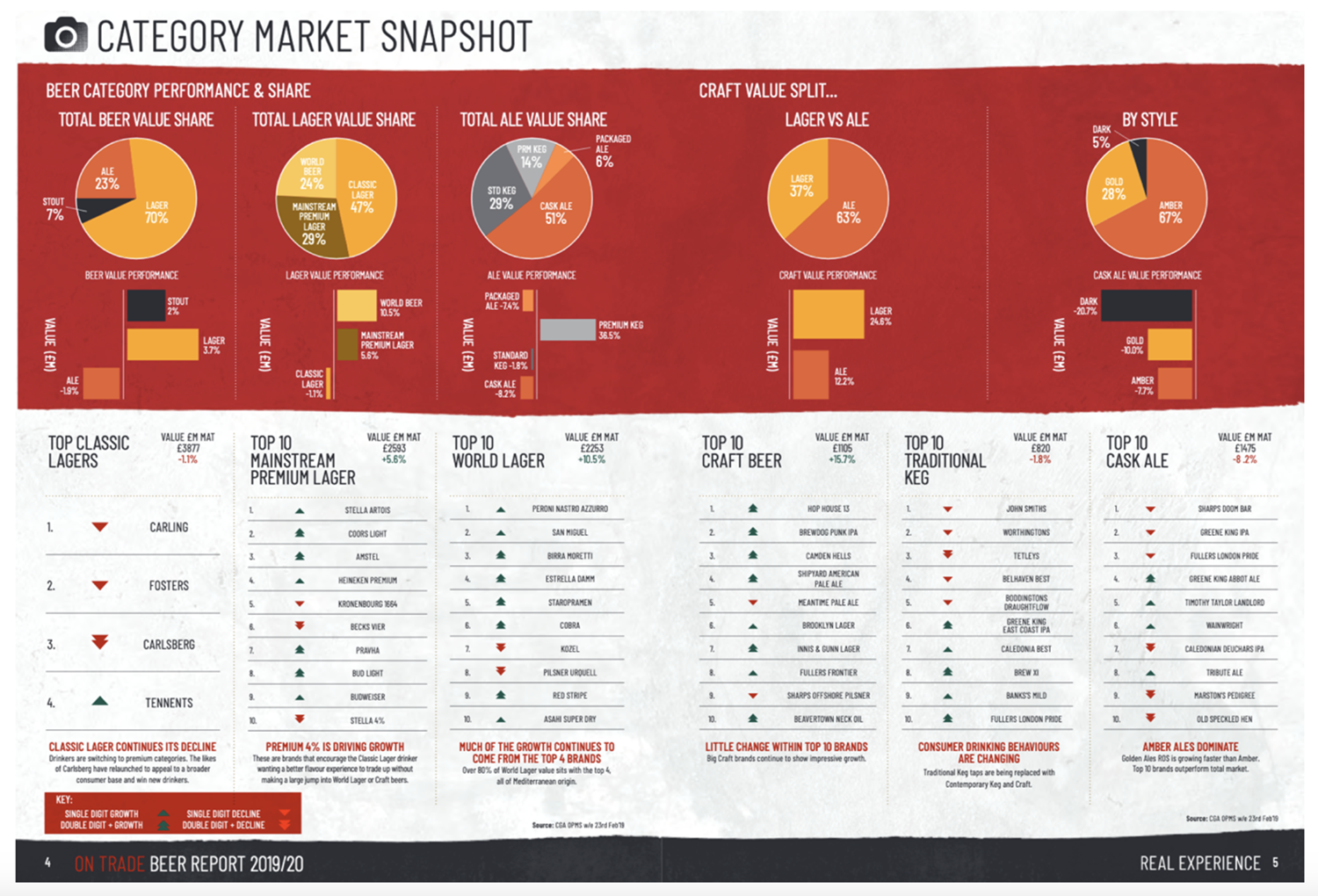 Classic lagers are declining but it's down to people switching to more premium brands. We see younger drinkers in the Red Lion who drink less than their counterparts from a generation gone by, but they want the more expensive premium brands. They perceive these to be value, taste better, look better and are aligned to their social aspirations. We stock Amstel as an entry level lager, San Miguel mid-range and Estrella Damm as Premium. Amstel is more consumed by the older drinker and Estrella is certainly the choice of the younger drinker. San Miguel serves both equally.
We don't stock any traditional keg beers such as John Smiths or Worthingtons. Currently we hear of very few complaints and certainly nobody is asking for them. Instead we offer craft lagers and American IPAs. Again, these sell well with the younger generation and are also a popular path through to drinking golden or the lighter cask ales. The turnover on the craft is increasing month by month but not at the expense of lager. We get more and more younger visitors who also bring partners and wives. For the Ladies, gin cocktails, fizz, wine and the premium lagers are favourites.
Our pub is often full of older drinkers so what are they supping?
Although we stock it, it's not Guinness for a start. Sales here are weakening.
Well we stock eight cask ales. We always have a Porter/Stout on tap and these are very popular and probably affect Guinness sales directly. We have four regulars – Marstons Pedigree, Courage Directors, Charnwood Vixen and Charnwood Salvation. All sell very well. Guests cover local brews such as Blue Monkey and Derby Brewing Co., with national big hitters such as Timothy Taylors Landlord and London Pride, supported by seasonal and more exotic offerings.
These are very popular with the older generation, but they are getting a foothold within the younger market. Not so much the heavy or strong ales but more the golden and pale ales such as Charnwood Vixen and Wainwrights Golden.
So, we now understand who drinks mainly what, but who spends the most and on what? Again, Marstons provide an insight as part of their Eureka survey in 2019.
It seems food led pubs will attract most low spenders, as far as beer is concerned. The survey shows most of the drinkers of both ale and lager are female and over 55 years. Apart from beer the other favourite tipples are wine or soft drinks. Mid-range spenders are in the age group 18 to 34 years. Wet led pubs are more likely to attract this demographic and they are more likely to drink both ale and lager, but the lager will be premium brand and they are also very likely to try craft.
Finally, the high spenders are in the middle, 35 to 54 years. They demand National Brands in terms of both ale and world lagers. They drink much more in a wet led pub than at home. They are more experimental but also stick with what they know and what they like.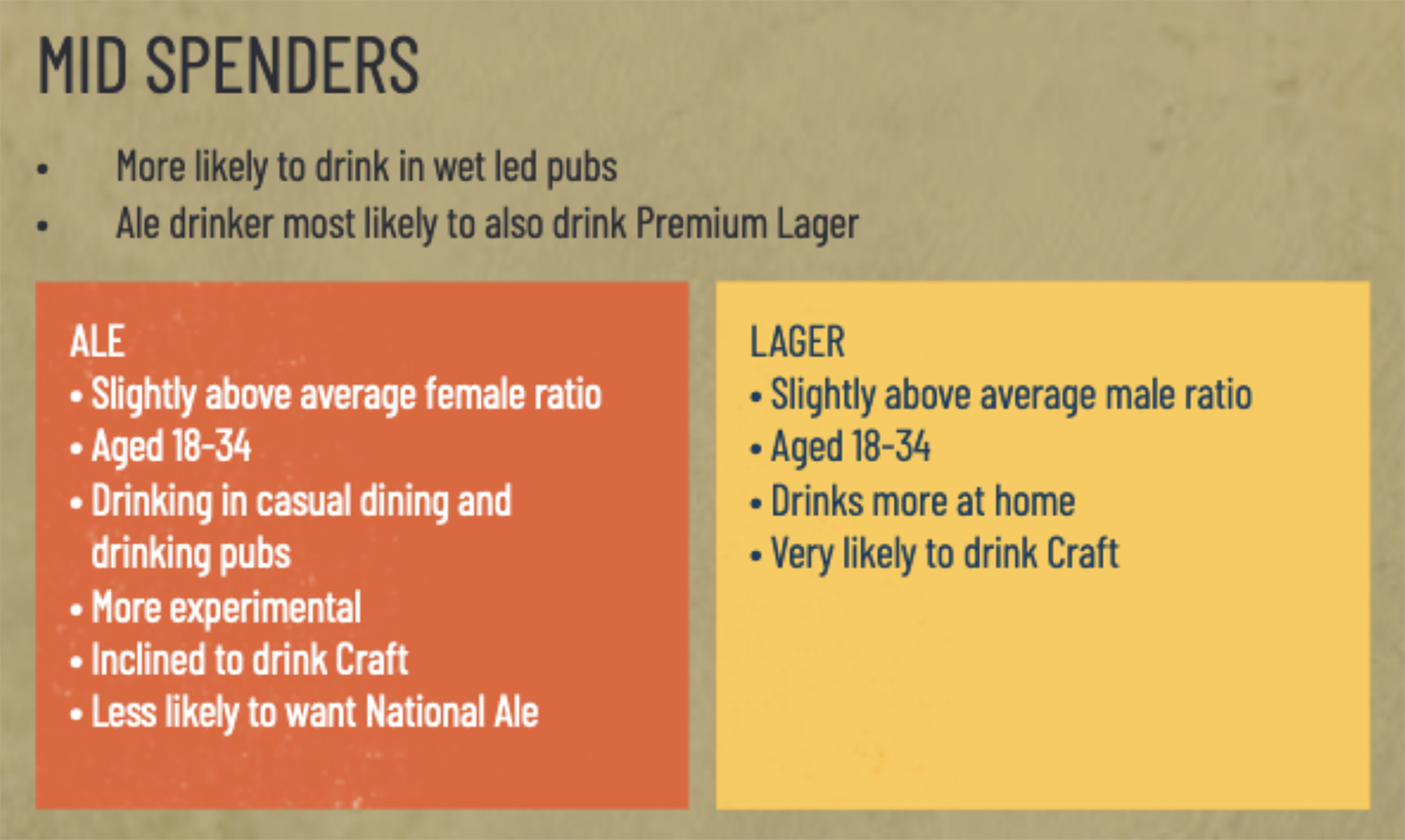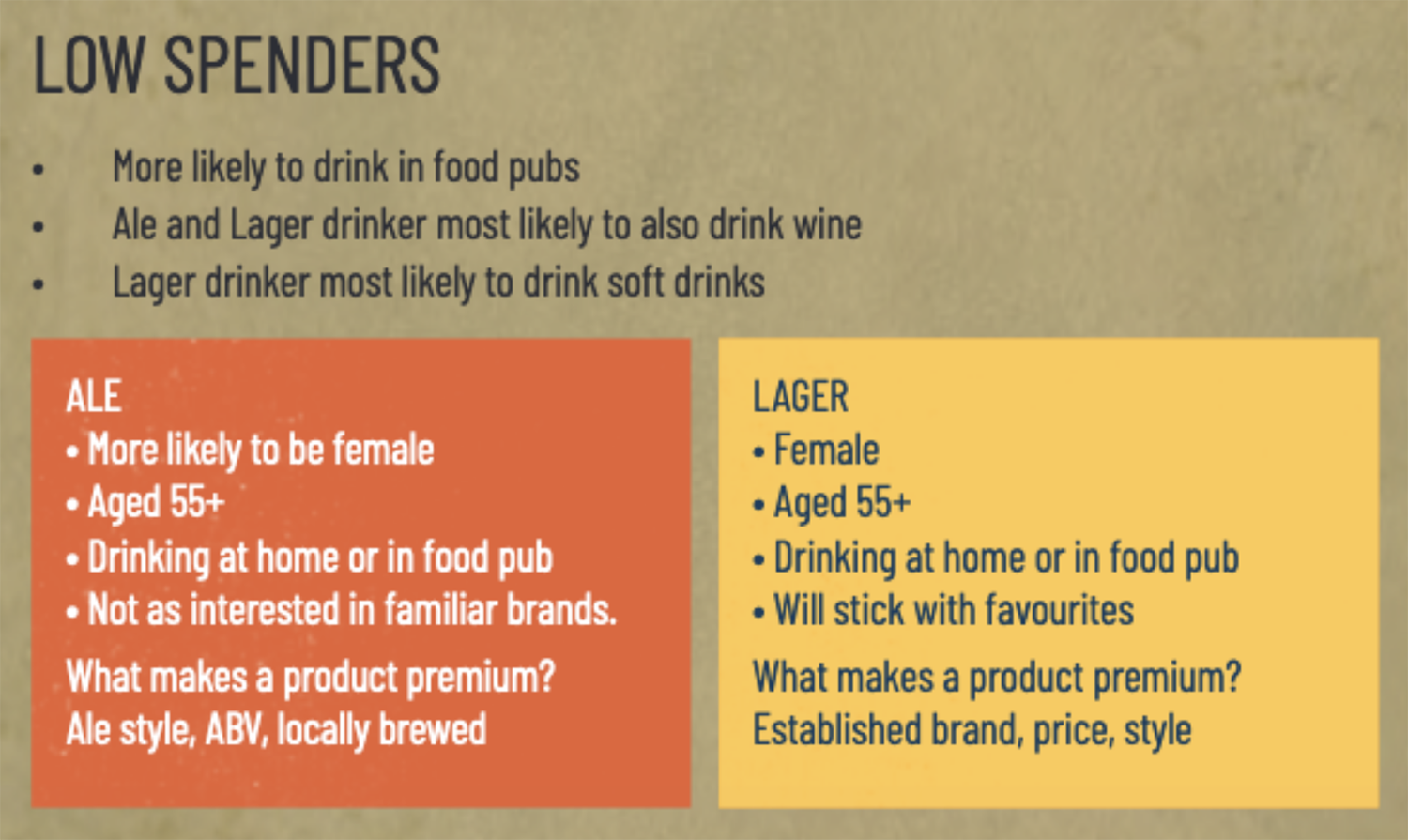 So why go to one pub and not another who serve the same ale or lager?
Experience, cleanliness, expertise, range, consistency and atmosphere seem to win over price on most occasions. However, it is important that price is set effectively for premium products. The branding has to go all the way through to the glass. This is so important for the younger generation who have been raised in a brand aware world. People are also looking for choice across the board. Not just in beer but gins, wines, whiskies and even coffees and teas too. Long gone are the days of a Mild, Bitter and a Lager on keg with crisps or peanuts as an offering. The customer is King, and the King is changing.
The King is dead, long live the King is an age-old battle cry. Well for a modern pub to survive and indeed thrive, they need to address their customers needs. Expect change, offer more choice, know your trade inside out and exceed expectations.
A village boozer serving low cost Carling with Sky TV Sports are competing with the supermarkets at worst or Wetherspoons at best. High costs and low margins are the start of the spiral of doom. A large town pub has the footfall and the size to generate high turnover, but the village pub needs to be more discerning.
Traditional customers have changed. They demand more. Those consumers who care most about the quality of ingredients are more inclined to spend more. Those customers who are freely educated about the beer choices available, prefer to stay loyal to the teachers. Value has a lot of meaning to different people. People who are treated valuably generally perceive the greatest value in return. It's what makes them return, again and again.