The UK is fast becoming a cashless society. Over the past year, 13% of free-to-use UK cash points have closed, as lower levels of cash use have made them economically unviable. A quarter (25%) of the machines now charge people to withdraw their cash. The Post Office's cash access service has come under threat. Barclays recently reversed plans to stop customers taking cash out from Post Offices after a backlash. So 'Cash IS STILL King' with enough people – but for how long?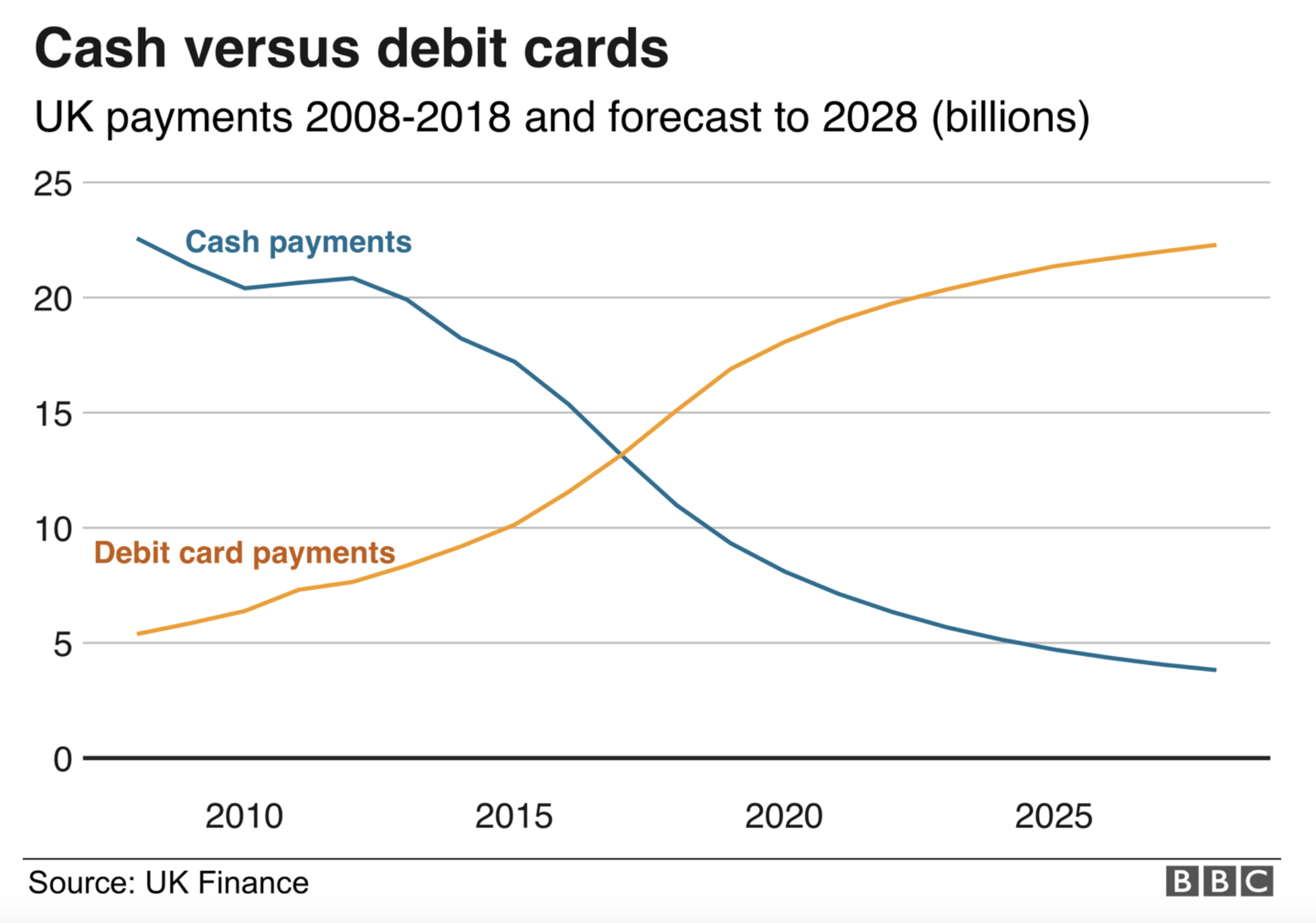 Certainly, at the Red Lion we see that cash and contactless payment are around 50:50, which backs up this graphic. The trend is heavily in favour of contactless.
Britons first began making contactless payments in 2007, though the technology had been around since the mid-90s. The concept is fairly simple: customers simply wave or tap their contactless device over a Point of Sale (POS) device to make a payment.
This is done using NFC (near field communication) technology, a radio frequency that allows the card to communicate with the POS device wirelessly. It ensures quick and accurate payments and customers never have to swipe their card or enter a PIN number.
These types of payments are designed for small purchases, like a coffee, groceries or a beer at your local. It speeds up transactions in busy or fast-paced environments where customers are more likely to be in a hurry or don't want to wait too long.
In the UK, most individual contactless payments have a £30 limit. Above this and you will have to enter your PIN and use your debit or credit card. People can make contactless payments using credit cards, debit cards or prepaid cards. However, the technology isn't limited to cards only. Smartphones, mobile wallets, Smartwatches and fitness trackers can all be used as contactless payment devices.
ADVANTAGES OF CONTACTLESS PAYMENTS
Contactless payments are quick, very quick
Contactless payments are faster than both cash and card transactions. You don't have to dig through your wallet trying to find the right change or your debit/credit card, and then wait to enter your PIN. The retailer doesn't have to process and print payment receipts or count back change for you, which also speeds up the process.
Increased customer satisfaction
As waiting times decrease, customer satisfaction tends to increase. This makes them ideal for pubs and coffee shops, which tend to have multiple customers wanting to order at once.
Secure transactions and fewer fraud losses
With contactless payments, the card or device never leaves the customer's hand. Plus, the chip technology utilised in contactless payments is actually more secure than other forms of payments. Fraud losses on contactless cards remain consistently low. In fact, 85% of credit card fraud now occurs online, as in-person fraud becomes more difficult.
No limit on how many or the value you make in a day, so long as you have the credit in your account
With contactless payments There is no daily cap on the number of individual transactions you can make (each up to £30), but occasionally, as an extra security measure, you'll be asked to enter your PIN to verify you are the account holder.
WHAT ARE THE DISADVANTAGES OF CONTACTLESS PAYMENTS?
Your battery runs out!
If you are using a Smart device with a wallet it's probably best to also carry your debit/credit card just in case, you run out of battery!
You sometimes don't get a receipt
Many people see no receipts as an advantage as they don't want them. When we go out with cash, we tend not to ask for a receipt for items we consume such as coffees and beer. If you want a receipt just ask when placing your order but beware at some sporting events or similar large outlets, receipts are not always available – even if you ask! If you use your SmartPhone to manage your banking, you can check your statements live in any event.
Big Brother is watching
The British have largely embraced contactless payment systems. Studies have shown that millennials don't want to use anything else. However, older generations are usually less accustomed to newer technology trends. Only about a quarter of adults over the age of 35 have started using contactless payments, though this will probably change in the future as people become more tech savvy. Yes, your data is being used by the providers and with cash they wouldn't know anywhere near so much. However, if you have a SmartPhone, they will know you are in the pub and for how long anyway.
WHAT'S WRONG WITH A CASHLESS SOCIETY?
"We must ensure the shift to digital doesn't leave millions behind or put our economy at risk," said Natalie Ceeney, of the Access to Cash Review.
Cash is important to millions of people, who still use it for paying for vital goods and services, such as utility and council bills. According to the Financial Inclusion Commission, nearly two million people in Britain don't have a bank account, meaning they need notes and coins to pay their way. There were 11 billion cash payments in the UK in 2018, but they are forecast to fall to 3.8 billion in 2028, accounting for fewer than one in 10 (9%) of all payments. A spokesman for the Treasury said: "Technology has transformed banking for millions of people, but we know that many still rely on cash. "That's why we've invested £2bn to ensure everyday banking services are available at 11,500 Post Office branches across the UK. "We're also working closely with industry and regulators to ensure everyone who needs cash can access it." But for how long and will it still be free?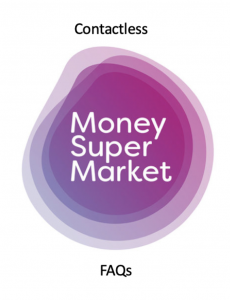 How secure are contactless payments?
Contactless payments are as safe and secure as making a payment with your PIN.
Both contactless cards and terminals are embedded with layers of anti-fraud technology and information that is transferred between terminals is secure and difficult to intercept.
Where can I make a contactless payment?
A host of high street retailers, restaurants and supermarkets including Marks and Spencer, Pret A Manger and Tesco accept contactless payments.
The payment terminal will display a wave symbol if contactless payments are accepted.
Do I need to do anything to activate contactless payments on my card?
Once you have received your contactless card in the post, like you would with any other bank card, you will have to call your bank to activate your new plastic.
Often there is a sticker on the front of the card with the telephone number of the activation line, although some banks allow you to activate your card on a paying-in or cash machine in- branch.
You'll then need to make a normal chip and PIN payment and after that the contactless capability on your card will automatically work.
Will I be charged extra for using contactless?
No, there is no extra charge for making a contactless payment.
How likely is it that I'll be charged twice for one transaction?
Payment terminals have been especially designed to prevent you paying for the same thing twice, so the chances of you getting charged double are highly unlikely.
Some terminals will ask you to only present one card, if it can detect two, while others might cancel the transaction entirely to avoid overcharging.
Could I make a transaction just by passing a payment terminal unknowingly?
Don't panic, it's very unlikely you'll end up paying for someone else's shopping as contactless payments only work within a short space.
Typically, your card or device needs to be between 2cm and 10cm away from a payment terminal.
Is there a daily limit on how much you can pay on contactless?
There is no daily cap on the number of individual transactions you can make (each up to £30), but occasionally, as an extra security measure, you'll be asked to enter your PIN to verify you are the account holder.
Can I use contactless on public transport?
You can use your contactless card or device on the London Underground and you will be charged the same fare as you would for an Oyster card transaction.
The London Underground also accepts ApplePay but make sure you have enough battery on your phone as you'll be charged a maximum fare if you're unable to tap out with your mobile.
Many tram companies and some bus companies are also accepting contactless payment now.
Am I protected if there is fraud or theft on my card?
The chip on your card protects against fraudulent activity as it uses a sophisticated system of unique codes and electronic signatures every time a payment is made – reducing the likeliness that your card details can be cloned or intercepted.
If any suspicious activity is noticed on your account, your bank's anti-fraud squad will get in touch with you.
Similarly, from time-to-time you'll be asked to input your PIN after making a series of contactless payments, as mentioned above.
How much will my bank cover if I lose my contactless bank card?
If money is taken from your account without your permission, the Payment Services Regulations will ensure your bank refunds you.
However, for transactions made before you have reported your card as lost or stolen, you will be liable for the first £50, although some banks may waive it.
What protection do I have if my card is stolen in the post?
If your card hasn't arrived within 10 working days of ordering it, get in touch with your bank where you can check if it has been stolen or lost.
You can also discuss alternative options such as cancelling the card and getting it sent to your nearest branch. Any fraudulent activity will be covered by the Payment Services Regulations.
What should I do if the contactless card doesn't work?
If your card doesn't work after you've activated it, talk to your bank about getting a replacement card.
How does it show up on my bank statement?
Every contactless payment you make will show up on your bank statement with the universal contactless wave symbol aside it.
As with chip and PIN transactions and bank transfers, it's wise to keep an eye on your payment history to make sure small amounts have not been fraudulently taken.
Do I have to use contactless?
You will never be forced to make a contactless payment. While payment terminals offer the choice to pay with contactless, there will always be the option to pay with chip and PIN.
Can I opt out of having a contactless card?
The best thing to do is to contact your bank, as whether you can opt out depends on which bank you are with. HSBC confirmed to us non-contactless cards are available; simply get in touch with them for a new card.
CONCLUSION
If you are a contactless user just keep up the good work. I bet you'll have less holes in your pockets from not having to carry change!
If you are not, why not give it a try. It really is easy and soon you'll wonder why it took you so long. If it's still not for you, don't worry it'll be a long time until pubs don't accept cash!
Great new review on Trip Advisor. Thanks again!